A big thank you to the clients, staff, family members and CWI supporters for attending Crossroads of Western Iowa's Annual Meeting, September 26th, 2016. There was a great turn out of over 275 guests who wanted to come out and celebrate!
The night started out with the recognition of our employees who have been with CWI for 5, 10 and 15 years. Our 5 years of services employees are: Amanda Stultz, Diane Lindgren, Ryan Chow, Clinton Jones, Terry Wilcoxen, Alex Walker, Robin Rodriquez, Kelley Green, Clint Sargent, Cathy Brown, Lacy Neff, Karen Opal and Jodie Shaw. Our 10 years of service employees are: Debbie Alford and Julie Conant. Last but not least, our 15 years of service employee is: Michelle Warren. Congratulations to all of our employees, we are blessed to have you be a part of CWI!
The next awards that were recognized were to our Outstanding Community Partners. 6 areas were recognized for their contribution to CWI: Housing, Integration, Employment, Advocacy and Awareness, Promotion and Corporate.
Winner for Housing
Todd Archer has been an outstanding landlord to our clients in Council Bluffs. In the last year he has built three new accessible homes for those in our services. He also has rented a home to CWI. The people in our services have been able to live in affordable, brand new homes. Todd is very timely in all repairs and has made many changes to make our homes completely accessible to the folks at CWI. He has also donated several items to our golf tournaments and has helped secure cars for the residential program.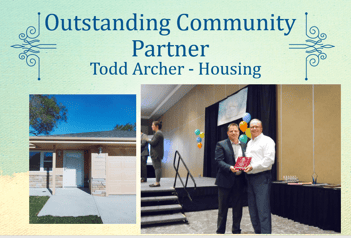 Winner for Integration
"Onawa Headstart in Onawa has supported me and worked alongside with Crossroads and myself. Onawa Headstart is very flexible with my schedule, especially when I go on outings with Crossroads. I started with Headstart in 2007 and started working with children right away. I enjoy the staff at Headstart and they are my friends outside of work. I've been keeping up with all of my training's and was offered to get my CDA (Child Development Associates) certificate." - Christina (CWI consumer)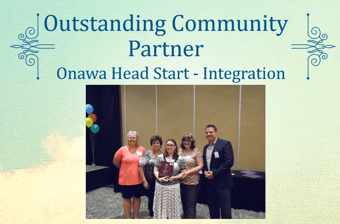 Winner for Employment
Travel Centers of America (TA) in Council Bluffs has worked collaboratively with our Supported Employment staff to hire 7 consumers, within the past year. TA has consistently communicated their employment needs and desires with the Supported Employment staff, which has helped us deliver top-quality service to our consumers. TA has provided on-the-job support for our consumers, which allows our consumers to feel comfortable without CWI staff being present. TA is a one-of-a-kind business partner for CWI's Supported Employment program and for those we serve.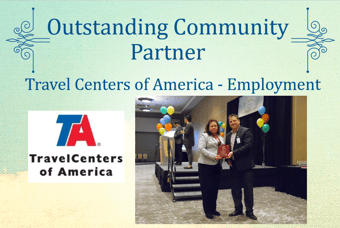 Winner for Advocacy and Awareness
Penny's Diner has been very supportive of CWI's employment program and they currently employee CWI clients. However, Tonya, the manager at Penny's Diner has advocated for CWI clients with other employers. When CWI was working with another business that were uncertain; Tonya reached out to the business owner to share CWI's mission and explained what the persons that CWI supports have to offer. That business has since hired a client from CWI. Tonya and her team at Penny's Diner have also helped in CWI's promotion of the Employment Services Program. You can find this video on our website, under the YouTube icon: Grow with Crossroads staff recruiting video. And if that was not enough; Penny's Diner donated gifts to the CWI clients in Harrison County last year at Christmas.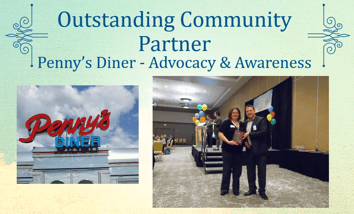 Winner for Promotion
Tom Hanafan has contributed to the success of CWI for over a decade. His involvement on our Board of Directors, our Foundation Board and acting as a development consultant. He has provided leadership, networking opportunities and influenced our growing organization on needing to accomplish its strategic priorities. Clients at CWI have been empowered by the numerous opportunities created under Tom's leadership and guidance. Tom provided his expertise in opening of our Indian Creek HUD housing complex. Through his mentorship and connections, we are blessed to have Tom's help to get our Sioux City operations off the ground 3 years ago. Tom's passion, commitment and energy has been key in initiating our golf outings, raffles and other events which all help to serve our clients financially.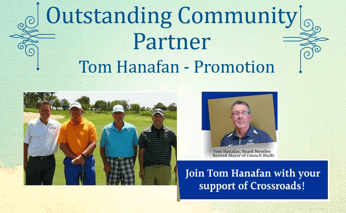 Winner for Corporate
Gail Steffen of Holmes Murphy has provided us with advice, assistance and guidance on several wellness initiatives and benefits for staff. This has helped us keep our premium costs reasonable and allowed us to consistently improve or increase our offerings to staff each year. Gail is a valuable resource to the Human Resource department and is always available to assist with benefits and human resource issues. In order to continue to provide high quality service to our clients, we must keep focus on attracting and retaining quality staff. She has personally donated to CWI and Gail's belief and support of our Mission has been instrumental in allowing us to do just that.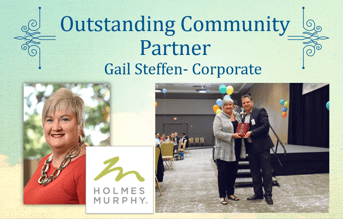 Another generous thank you for the passion, determination, hard-work and heart behind what these individuals have made possible for those we serve here at Crossroads of Western Iowa. We couldn't of made this happen if it wasn't for the love and support from every client, staff, family member and the communities we serve. - Crossroads of Western Iowa - www.explorecrossroads.com