The weather could not have been better in Council Bluffs, with the thundershowers holding off until after everyone had packed up and headed home. And this stands to reason, because we had Mike LaPoint, the Chief Meteorologist at WOWT Channel 6 as our Honorary Chairman for the event. Our own Andy Murray was again our Honorary Client and took the first shot to start the event.
With 108 golfers hitting the links, the Driving for Crossroads Charity Golf Tournament had a gross revenue of $23,204 and a net income of $15,022. This was largely due to the support of our sponsors, including: Predictive Technology, Inc. (Silver Sponsor at $2,500); and Bronze Sponsors: Harrah's and Horseshoe Casinos, Midstates Bank, Mobilis Medical, Woodmen Life, Spindustry and US Bank.
We were hopeful to have a few more golfers and a greater revenue, but our date was the same day as two other tournaments in Council Bluffs.
Our hospitality sponsors were: Airlite Plastics, The Glienke Agency, HGM Associates, Inc., Immel and Associates, and United Healthcare. Tee packet sponsors included: Ameristar Casino and CHI Health – Memorial Hospital in Missouri Valley.
With the 'Hole-in-One' Contests sponsored by Bass Pro Shop and Todd Archer Hyundai. We are grateful to have many staff operate as volunteers throughout the day, to help make this a great success again in 2016.
For more information on how you can be apart of Crossroads of Western Iowa, please visit http://www.givetocrossroads.org/welcome.html or http://www.explorecrossroads.com
Photo Gallery:
"Who's excited to start golfing?" - "We are!"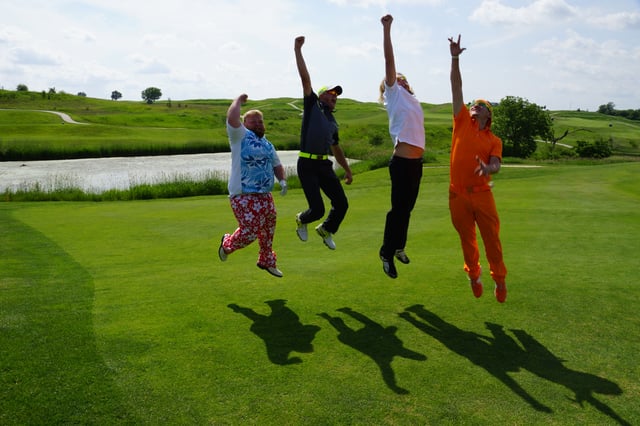 Mike LaPoint was the honorary chairperson in our golf tournament and he gave us a "live" weather broadcast. Also, it's not a fun golf day if there wasn't a little Happy Gilmore swing techniques involved.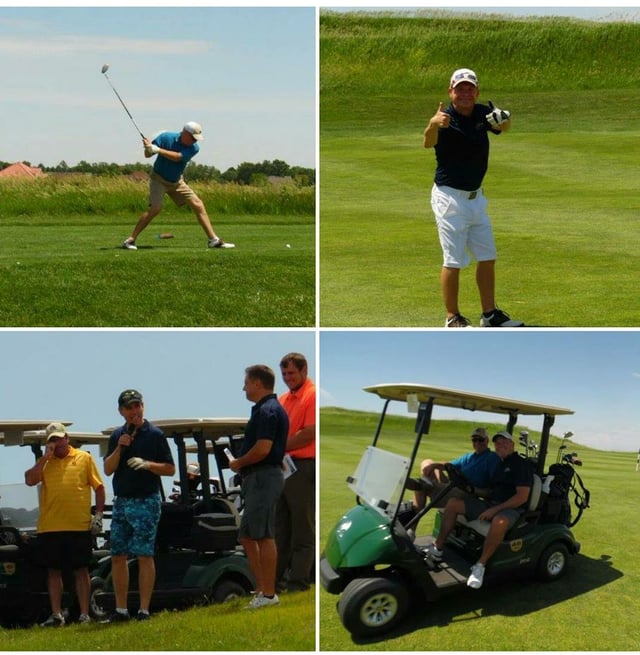 Our group of golfers! All smiles even though nobody won a car or boat on the hole-in-one shot.